Uterine Fibroid Risk in Black Women
Was this helpful?
Black women are significantly more likely to develop uterine fibroids than women of other races; they're also at a higher risk of experiencing severe symptoms that can negatively impact their quality of life. Heavy, painful periods, pain with sex, and anemia-related fatigue are all fibroids symptoms that shouldn't be ignored. Talk to your doctor about fibroids treatment options, which may include medications or more invasive procedures.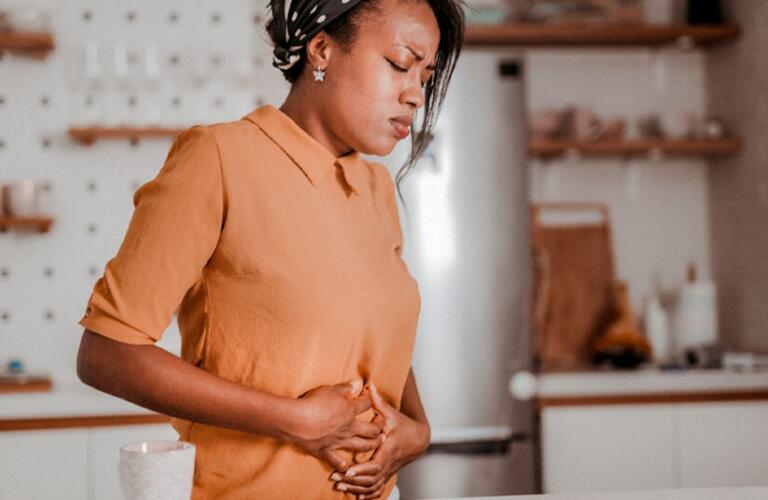 Uterine fibroids are noncancerous growths in the uterus that can cause heavy menstrual bleeding, cramping, and pelvic pain or pressure. About 80% of women develop uterine fibroids by the age of 50, but not all of them experience symptoms that need to be addressed. If you are a Black woman, you are at increased risk of uterine fibroids. In fact, experts estimate that the fibroid risk for Black women is as much as three times higher than that for white women in the U.S. Understanding your risk of developing fibroids, and learning how to recognize symptoms and treat them, is crucial in order to maintain good health.
When compared with white women, Black women tend to develop fibroids at a younger age and experience fibroids symptoms for a longer period of time before receiving treatment. They are also more likely to experience more severe symptoms and recurring fibroids.
Severe symptoms can disrupt a woman's day-to-day life and threaten their overall health. For example, excessive menstrual bleeding can lead to anemia, and painful cramps can impact quality of life and one's ability to perform at work, home, and school. Discomfort and pain with sex can cause problems in a woman's intimate relationships. Additionally, large fibroids can interfere with fertility and pregnancy. Research suggests that the question of whether fibroids could hinder their ability to get pregnant is a concern for many Black women. Studies have also found that many women experience emotional distress and body image issues as a result of their fibroids; the psychological impact affects Black women in particular.
Another disparity exists for Black women when it comes to treatment for uterine fibroids. Although there are several possible treatments for uterine fibroids, hysterectomy to remove the uterus is still the most commonly performed procedure. In fact, research suggests that 39% of all hysterectomies in the United States are performed to address uterine fibroids. Black women are at least twice as likely as white women to undergo hysterectomy for fibroids, even though there are other less invasive options available. This is an issue because some of these women may not realize that there are alternatives that might preserve their fertility, including minimally invasive procedures to stop fibroid growth and medications to treat pain and heavy bleeding. If you have fibroids, find a doctor who can provide a comprehensive list of your treatment options; it's not always necessary to turn to hysterectomy before trying other methods.
Beyond race, other factors are linked to an increased risk of developing uterine fibroids. These include:
Family history: If your mother or sister had uterine fibroids, your chances of having them are greater.
Age: Doctors most commonly diagnose uterine fibroids in women in their 30s and 40s.
Early menstrual cycles: Research suggests that women who began their menstrual cycles at an early age seem to be at elevated risk.
Weight: Women with obesity are at higher risk of developing fibroids.
Diet: Women who consume alcohol or red meat frequently may have a higher chance of fibroids.
Black women with some of these risk factors may want to be especially vigilant about noticing symptoms of uterine fibroids and seek help sooner, rather than waiting to see how their condition evolves. Many women with heavy menstrual bleeding and painful cramps accept their symptoms as part of life without realizing they are related to fibroids and can be addressed — especially if other women in their family also experience these problems. Fibroids symptoms are not a "normal" part of the menstrual cycle, and your doctor can provide treatment options to bring you relief.
Some risk factors are unavoidable. However, you can take other steps to lower your risk of fibroids, including:
maintaining a healthy weight
eating a healthy diet that includes lots of fruits and vegetables
using a hormonal contraceptive
Not everyone experiences symptoms of uterine fibroids, but some do. Black women are more likely to fall into the latter category. Either way, if you develop symptoms or you are concerned about your risk, do not hesitate to talk with your doctor.
Was this helpful?