Peritoneal Dialysis: How It Works
Was this helpful?
Peritoneal dialysis (PD) removes waste products from the blood if you have end-stage kidney disease (ESKD), also referred to as renal failure. It uses your body's abdominal lining, or peritoneum, to filter your blood at home. There are an estimated 786,000 people in the United States with ESKD, with 71% on dialysis. A 2021 report found that home dialysis is becoming more widespread and safer.
This article will explain the preparation, procedure, and potential risks of PD. It will also discuss the different types of PD and who may be a good candidate for it.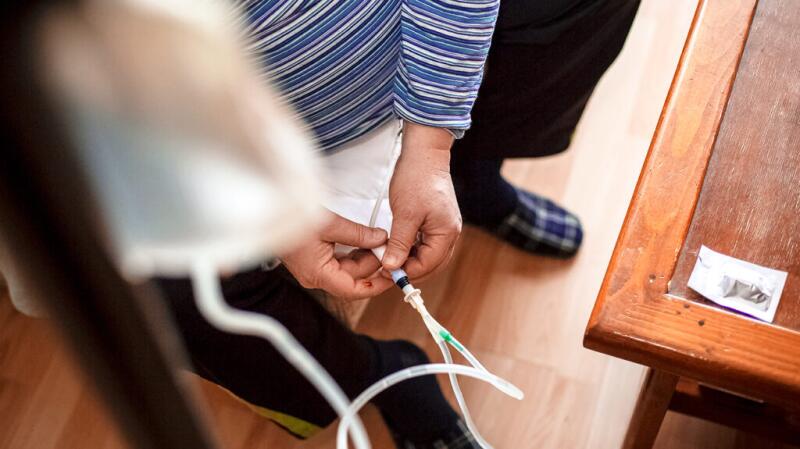 When you have ESKD, your kidneys cannot sufficiently filter out waste or excess salt and water. PD is a type of dialysis you can do at home or at work that removes these waste products by filtering your blood through your abdominal lining. It cleans your blood and helps control your blood pressure.
You may be a candidate for PD if you have ESKD. Doctors may recommend it instead of hemodialysis if you are otherwise in good health and do not have any additional serious health conditions, such as heart disease or cancer.
You may also be a good candidate if you still have some kidney function. However, if you have had multiple prior abdominal surgeries or have obesity, you may not be a candidate for PD.
Doctors will surgically place a tube, or catheter, into your abdomen a few weeks before starting PD. This allows enough time for the surgical site to heal.
You will need to keep the area around the tube clean to prevent potential infection from entering the abdominal area. This is called peritonitis, or inflammation of the peritoneum. It is a potentially life threatening condition if not treated.
A specialized nurse will help you learn the dialysis process and teach you how to clean your catheter to avoid infection. You may want to have a friend or family member also learn the process in case you need assistance.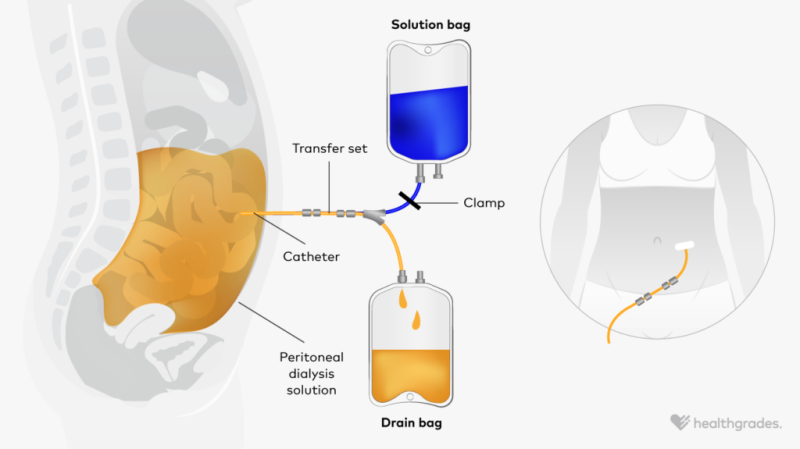 To begin PD, you will add a special solution called a dialysate through the tube in your abdomen. Your abdominal lining acts as a filter to remove excess fluid and waste from your blood into the dialysate.
The dialysate stays in your abdomen for about 6 hours — called dwell time — to clean your blood. The solution drains out, and you add fresh dialysate in what is called an exchange. You can do exchanges yourself, or you can use a machine.
It is important to do exchanges in a clean, dry location with no plants or pets to prevent infection. Keep your supplies in a clean, dry space.
You can go about your daily routine with the dialysate in your abdomen. You may feel full or bloated from the fluid. You need to keep the catheter area dry, so avoid swimming or other activities that might get the area wet.
Your doctor will determine the number of exchanges you have to do daily, how long your dwell time should be, and the type and amount of dialysate to use. These factors will depend on several things, including your:
weight
remaining kidney function
current health
lab test results
Your doctor will monitor how well PD works by measuring your remaining kidney function via a blood test and 24–hour urine collection. Doctors typically make an assessment within the first month of dialysis, and then every 4 months after that if your urine output stabilizes.
About 1 or 2 months after you start PD, your doctor will perform a peritoneal equilibrium test to measure how well your peritoneal membrane works. This will help determine the number of exchanges you will need in the future, dwell times, and the amount and type of dialysate required.
The National Kidney Foundation lays out the two types of PD. You and your doctor can discuss which type to use based on your lifestyle choices.
Automated peritoneal dialysis (APD) works in the following ways:
A peritoneal dialysis machine called a cycler performs the exchanges while you sleep.
The average number of exchanges is three to five.
The cycler takes about 9 hours to complete all the exchanges.
Continuous ambulatory peritoneal dialysis (CAPD) works a little differently:
It uses gravity instead of a machine to make the exchanges.
You can perform it during the day, every day.
The average number of exchanges is four.
Each exchange takes about 30 minutes.
APD provides more free time during the day for work and family activities than CAPD. If you cannot manage the procedure yourself, you will need a partner or nurse to help you.
Your treatment, dwell time, the number of exchanges, and type of dialysate may change depending on how your body responds to PD.
A common risk of PD is peritonitis. Bacteria can enter through the area around or through your catheter, so it is important to keep this area clean by using an antibiotic cleanser. Keep your catheter dry, wash your hands before handling the catheter, and wear a mask over your nose and mouth during exchanges.
Contact your doctor if you notice any of these symptoms of infection:
redness or discoloration, swelling, or pain near the catheter
cloudy-looking used dialysate
Additional complications may include an increased risk for a hernia due to the weight of the fluid and the abdominal opening for the catheter. Some people may also experience weight gain from the sugar in the dialysates.
Overall, many people do well on PD. However, only about 50% using PD remain on it after 2 years, mostly due to the peritoneal membrane failing to filter wastes from the blood. This may result from the high sugar concentration of dialysate solutions or peritonitis. Peritonitis can cause thickening and scarring of the peritoneal membrane.
Your doctor will perform blood tests, collect your urine, and test the filtered dialysate to monitor how well PD works for you. You may need to switch to hemodialysis if PD fails to filter your blood.
PD can be as effective as in-center hemodialysis. Your doctor will help you determine which type of PD will work best for you, and you will need to undergo detailed training to learn how to correctly perform all the treatment steps.
Your doctor will perform regular tests to monitor how well PD works for you. Some people may find that PD cannot filter their blood and may need to switch to hemodialysis.
Talk with your doctor to see if PD is right for you.
Was this helpful?