Best Diet for Psoriasis
Was this helpful?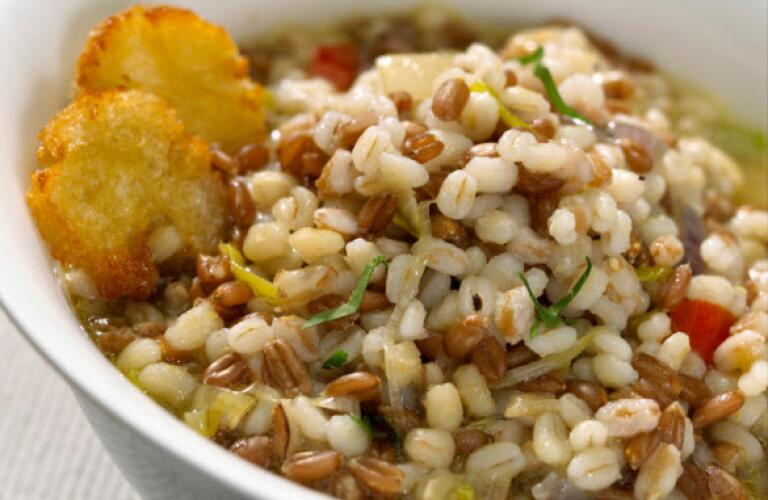 What you eat does not cause your psoriasis. Likewise, you can't cure psoriasis with a special diet. However, you can better manage your flares and reduce your risk of serious psoriasis-related conditions, such as heart disease, diabetes, and high blood pressure, by eating healthy.
The link between psoriasis and certain diseases may be inflammation, and some experts think that eating the right well-balanced diet (and one that keeps you at a healthy weight) can help your body reduce the inflammation caused by your skin condition.
The same good foods are great for dealing with psoriasis, heart disease, diabetes, high cholesterol, and inflammation. As you plan your meals, start by choosing fruits and vegetables in a large range of colors to ensure you are getting as many nutrients, including disease-fighting antioxidants, as possible.
Next, pick proteins that are low in saturated fats, such as lean beef, skinless chicken, fish, and beans. Add whole grains instead of processed grains. Grains like rice and wheat normally have a protective shell that is high in nutrition and fiber—processing removes the shell and all its nutrients. Look for whole-wheat breads and pastas and brown rice instead of white. One word of caution: Some people think that the gluten in wheat and other grains makes their symptoms worse. Keeping a food diary will help make you aware of any reaction.
Dairy products are an important source of protein, calcium, and vitamin D. Maintaining proper vitamin D levels is important for controlling psoriasis flare-ups. Deficiency in vitamin D is also a known risk factor for developing psoriasis. To avoid saturated fats that contribute to heart disease and high cholesterol, limit your dairy to no-fat and low-fat choices. Finally, limit salt, sugar and alcohol. Like sugary sweets, alcohol is full of empty calories, and it may also make your psoriasis symptoms worse.
One of the most important ways to help yourself is to watch your weight. If you're overweight or obese, chances are your psoriasis symptoms will worsen, and you may be more likely to develop psoriatic arthritis. Include plenty of fiber in your diet through fresh fruits and vegetables and whole-grain choices. Fiber is a great weight loss aid—it fills you up and slows down your digestion.
To enhance your nutrition profile, talk with your doctor about adding specific psoriasis-busting nutrients to your diet. You can take a multivitamin every day to cover most of your vitamin needs, but you might benefit from extra folic acid, one of the B vitamins. You can get folic acid from eating many leafy green vegetables, dried beans, and peas as well as by taking a separate vitamin supplement.
Omega-3 fatty acids are another nutrient to consider. Found in "oily" cold-water fish like salmon and mackerel, omega-3s are inflammation fighters. If you aren't a big fish eater, you can get your omega-3s in capsule form.
Talk with your doctor if you need help with nutrition or weight loss, or if you notice that a certain food triggers a psoriasis flare. Ask about taking vitamins or supplements for better overall health and possibly milder symptoms. A healthy diet won't cure your psoriasis, but it can make living with psoriasis a lot easier.

Was this helpful?