What Is Pulmonary Edema? Everything to Know
Was this helpful?
Pulmonary edema is a potentially serious condition caused by a fluid buildup in the lungs. The condition can make it difficult to breathe. Heart-related or cardiogenic pulmonary edema is the most common type. Pulmonary edema can occur due to lung damage, known as noncardiogenic pulmonary edema. Also, up to 80% of people with heart failure have pulmonary edema.
This article explains the causes of pulmonary edema. It also looks at symptoms, treatment options, and when to contact a doctor.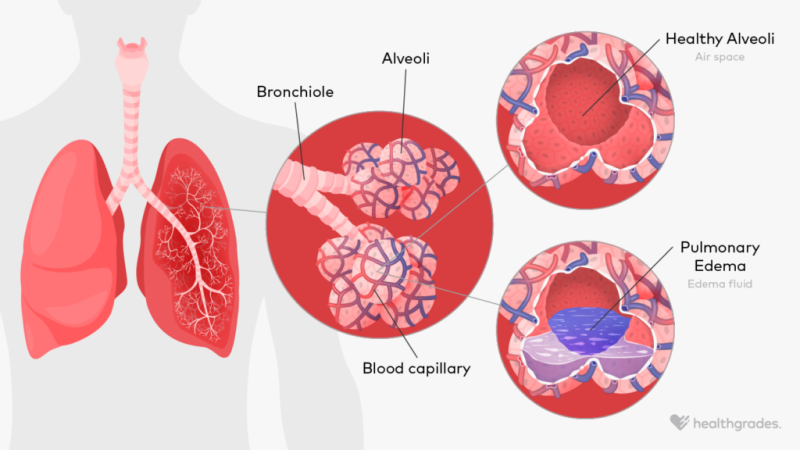 Breathing difficulty causes many pulmonary edema symptoms. Some symptoms may indicate the underlying cause of pulmonary edema.
Symptoms of pulmonary edema can include:
Learn more about breathing difficulties.
Pulmonary edema occurs when air sacs in the lungs are filled with fluid. Healthy air sacs allow oxygen to enter the bloodstream. With pulmonary edema, the fluid in the air sacs prevents the entry of oxygen, resulting in shortness of breath.
Cardiovascular causes of pulmonary edema
More than 1 million people a year are admitted to the hospital for pulmonary edema because of a heart condition.
If the heart can't pump blood from the lungs, the pressure inside the lungs increases. Increased pressure can cause fluid to enter the air sacs inside the lung.
Cardiovascular causes of pulmonary edema include:
Learn more about heart conditions.
Other causes of pulmonary edema
Lung damage can also cause pulmonary edema. Damage leading to pulmonary edema may be the result of:
Treatment will vary greatly depending on the underlying cause.
For example, treating pulmonary edema due to heart failure aims to stabilize the heart. Treating pulmonary edema due to bacterial pneumonia seeks to control the infection with antibiotics.
Your doctor may also recommend treatments to manage pulmonary edema symptoms. Possible treatments include:
Contact your doctor as soon as you have concerns about the symptoms of pulmonary edema. It can be a serious condition, so a diagnosis is important for early treatment.
To reach a diagnosis, your doctor may perform a physical exam and ask about your medical history.
Tests they may order include:
Complications of pulmonary edema typically occur as a result of the underlying condition.
Possible complications could include:
Depending on the underlying cause, it may not be possible to prevent pulmonary edema. However, steps to reduce your risk of heart disease to help prevent cardiogenic pulmonary edema include:
Following your treatment plan for existing pulmonary edema may also help reduce the risk of recurrence.
Pulmonary edema is the collection of fluid inside the lungs. Pleural effusion is when fluid builds outside the lungs, in the space between the lungs and the chest cavity.
Learn more about pleural effusion.
Pulmonary edema is a potentially serious condition that occurs when fluid builds inside the lungs. Cardiogenic pulmonary edema happens as a result of a heart condition. Noncardiogenic pulmonary edema is a result of lung damage.
Pulmonary edema symptoms include breathing difficulties, swelling, and sweating. It can also cause a frothy pink mucus from the nose and mouth.
Treatments include oxygen, continuous positive airway pressure, and medications.
Contact a doctor about your pulmonary edema concerns. They can use a chest X-ray and blood tests to reach a diagnosis.
Was this helpful?