Enlarged Liver: What You Need to Know
Enlarged liver is an increase in the size of the liver. The medical term is "hepatomegaly." Enlarged liver is a sign of liver disease caused by an underlying condition. In early liver disease, a liver may become inflamed and swollen. When your body is attempting to heal an injury or fight an infection, inflammation occurs. It is a normal response. However, if inflammation in the liver continues, it can begin to damage your liver.
Common causes of enlarged liver include:
Most people cannot feel an enlarged liver, but you may notice some other symptoms. These symptoms can include gastrointestinal problems or yellowing of the skin and whites of the eyes, depending on the underlying condition causing the enlarged liver.
Seek prompt medical care for:
Seek immediate medical care (call 911) for the following symptoms:
Continue reading this article to learn more about enlarged liver symptoms, causes, and treatments.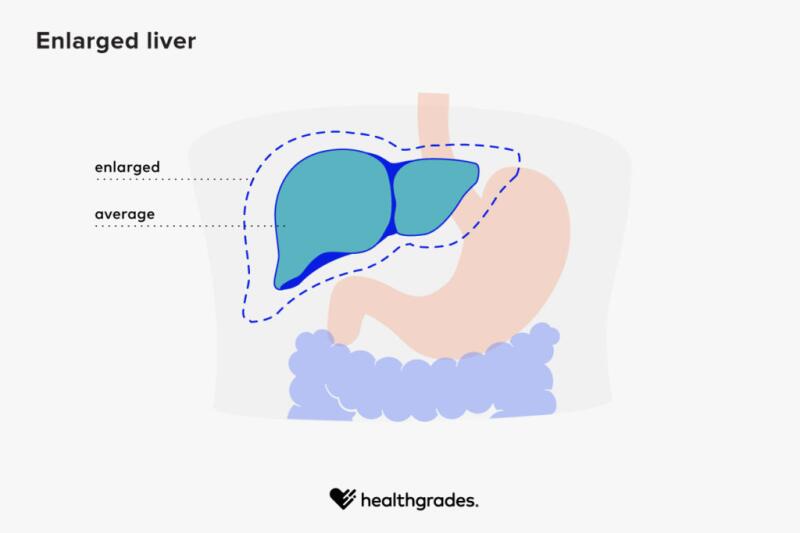 Hepatomegaly, also called enlarged liver, is swelling of the liver. In some cases, both the liver and spleen become enlarged together, a condition called hepatosplenomegaly. Enlarged liver may interfere with the liver's ability to function properly.
The liver is an organ in the digestive system that carries out many essential functions. These functions include:
producing bile to help break down food into energy
clearing the blood of bilirubin and toxins, including those from medication, alcohol, and drugs
controlling fat storage
controlling cholesterol production and release
fighting infections
producing blood plasma proteins
The liver and the immune system work together to produce inflammation to eliminate harmful substances in the liver.
Inflammation is part of an immune response. It is also important for the liver to repair damaged liver cells. When the inflammation continues, however, it can initiate early liver disease, inflame the liver, and cause it to enlarge.
Many symptoms may occur along with enlarged liver, depending on what is causing the condition. Some symptoms include:
yellowing of the skin and whites of the eyes (jaundice)
abdominal pain, swelling, or bloating
diarrhea, pale-colored stool, or bloody stool (stool may be red or black)
nausea with or without vomiting
discolored urine
fatigue
fever or chills
itchy skin
lack of appetite and unintentional weight loss
swelling of the legs or feet
An enlarged liver can be a symptom of a life threatening condition. Seek immediate medical care (call 911) if you, or someone you are with, have any of these symptoms:
severe or unusual abdominal pain
change in mental status or sudden behavior change
rapid heart rate (tachycardia)
severe fatigue
vomiting blood or black material resembling coffee grounds
Also seek prompt medical care if you are being treated for liver disease and your symptoms worsen, persist, or recur.
Enlarged liver is usually caused by liver disorders related to other conditions or disorders affecting other body systems.
Causes of enlarged liver can include:
Serious or life threatening causes of enlarged liver
In some cases, an enlarged liver may be caused by a serious or life threatening condition. These causes include:
adverse drug reactions, such as acetaminophen toxicity
blood infections
injury to the liver or bile-draining tubes
Reye's syndrome
Some people have a higher risk of liver damage, which can lead to an enlarged liver. Some of these risk factors include medical conditions, family medical history, and other factors related to lifestyle choices.
Risk factors for enlarged liver related to your medical background and family history include:
autoimmune disorders
liver disease or liver cancer
having an infection, including hepatitis
Risk factors for an enlarged liver related to lifestyle include:
excessive alcohol use
eating a diet high in sugar and fat
taking too much of some vitamins or medications
taking certain herbal supplements, such as black cohosh, chaparral, comfrey, germander, valerian, ma huang, skullcap, kava, mistletoe, and pennyroyal
Because it is unlikely you will feel that your liver is enlarged, your doctor may diagnose hepatomegaly when evaluating you for other symptoms. Other symptoms will vary depending on the underlying disease, disorder, or condition. Your doctor may suspect enlarged liver during a physical exam conducted for another reason.
Usually, the edge of the liver emerges just to the lower edge of your right rib cage. If it is enlarged, your doctor may be able to feel it when you take a deep breath.
To diagnose your condition, your doctor will ask questions, including:
Have you noticed a feeling of fullness or a lump in your abdomen?
Have you experienced any abdominal pain?
Have you had any vomiting or vomiting of blood?
Have you had any unusually colored stools?
How much alcohol do you drink? Have you noticed any increased pain after drinking alcohol?
Have you noticed changes in your skin? A change in color? New blood vessels? Any itching?
What medications do you take?
Have you had any other symptoms?
Based on the physical exam and your answers to these questions, your doctor may want to conduct some tests. These could include:
Abdominal ultrasound: This imaging test uses ultrasound to view the liver and abdominal organs.
Imaging tests: An abdominal X-ray will look at the liver and surrounding organs. A CT scan or MRI will provide more details, including the composition of the liver and any potential changes.
Liver function tests: These blood tests may include liver enzyme levels and a complete blood count, among other tests.
Liver biopsy: A healthcare professional removes a small tissue sample of the liver to examine it under a microscope to look for changes.
To treat an enlarged liver, your doctor will focus on treating the condition that is causing the liver to swell. Since there are many problems that can cause liver damage, treatments vary.
Some things you can do to protect your liver and help prevent liver disease that causes hepatomegaly include:
cutting back on drinking alcohol or stopping altogether
maintaining a moderate weight
eating a healthy diet and getting enough exercise
getting vaccinated against hepatitis A and hepatitis B
managing other health conditions, such as getting iron levels under control
taking vitamins and supplements only under a doctor's guidance and in the correct dosages
getting appropriate treatment if cancer is causing an enlarged liver
Because an enlarged liver can be caused by serious diseases, failure to seek treatment can result in serious complications or permanent liver damage.
It is important to follow the treatment plan you and your doctor design specifically for you to reduce the risk of potential complications, which can include:
Enlarged liver is a sign of liver disease. A liver may become inflamed and enlarged while fighting off infection, cancer, or other conditions affecting the liver.
The liver is resilient and can at times heal itself. However, prolonged inflammation can cause permanent damage and lead to complications.
It is important to listen to your body and talk with your doctor if you notice any health symptoms. Imaging and liver function tests can help identify the cause of an enlarged liver. Treatment usually involves treating the underlying cause.