Talking With Your Doctor About Knee Replacement
Was this helpful?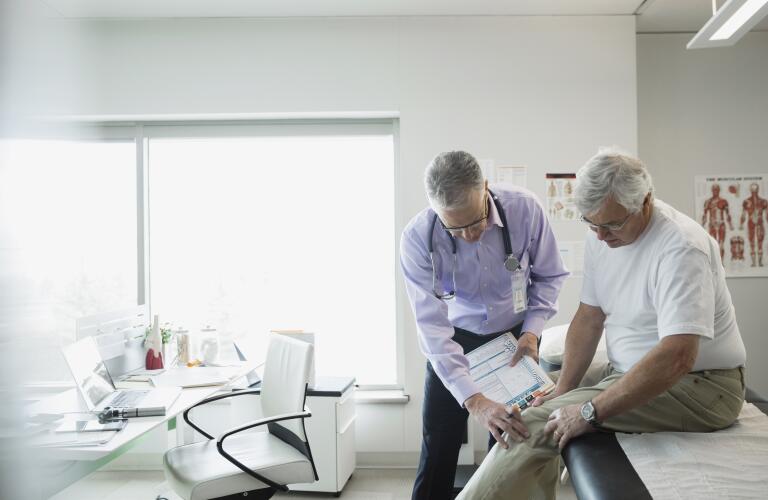 Knee replacement can restore pain-free motion and function in the knee. If this surgery may be in your future, prepare for knee replacement by talking with your doctor. An orthopedic surgeon who specializes in knee replacement (or performs many of them every month) is the best provider for this talk. You can gather all the information you need, which will boost your confidence for decision making and heading into surgery.
If you aren't sure what to ask before knee replacement surgery, here are some suggestions. Use these knee replacement frequently asked questions as a starting point for your conversation.
If you've been suffering with knee arthritis or injuries, you've probably already tried several treatments. Doctors usually reserve knee replacement until other options have failed to provide relief. You and your doctor may decide it's time to consider knee replacement when your knee problems diminish your quality of life. This includes:
Knee deformity that limits joint motion and causes disability

Knee pain or stiffness that significantly limits your activities

Knee pain that is severe or constant, occurring even at rest
Your doctor may order imaging exams, such as X-rays, to gauge the extent of joint damage or degeneration. This can also help you decide whether or not it's time for a knee replacement.
There are two basic approaches to knee replacement—traditional and minimally invasive. With traditional knee replacement, the doctor makes a large incision down the front of the knee. The incision is up to 10 inches long and involves temporarily removing several muscles from the joint. In minimally invasive knee replacement, the incision is about half as long. It also spares a lot of trauma to muscles and tendons. This approach does not change the type of knee implant your doctor can use. The implants are the same for both types of knee replacement.
Minimally invasive surgery has several advantages. In general, the length of your hospital stay will be similar with either approach. Long-term outcomes are also similar for the two approaches. However, your recovery will likely be shorter and less painful. These benefits make this an important question to ask your doctor.
In general, people who are young, healthy, and relatively fit are the best candidates for minimally invasive knee replacement. They also need to be very willing to participate in their rehabilitation—or rehab. If you are overweight or very muscular, this approach may not be ideal for you. It also may not be an option if you have already had knee surgery, have knee deformities, or have a medical problem that inhibits healing.
A knee replacement can be either total or partial. In a total knee replacement, the doctor removes the entire joint. The replacement consists of a thigh bone component, a shinbone component, and a plastic spacer. In a partial knee replacement, the doctor only removes one side of the joint and preserves the healthy parts of the knee. Another name for this type of knee replacement is unicompartmental.
There are several advantages to a partial knee replacement. This includes more normal functioning of the knee and being able to bend the knee better. It also tends to have a quicker and less painful recovery. However, a future total knee placement may be necessary if arthritis develops in a remaining knee compartment.
The main criteria for having a partial knee replacement is having arthritis in only one knee compartment. Outcomes are similar for both younger and older people. A partial knee replacement may not be an option for you if you have ligament damage or significant stiffness in your knee.
In most cases, knee replacements work out very well and people recover without complications. However, any surgery has potential risks, including bleeding, infection, and blood clots. Other possible risks with a knee replacement include problems with the implant, such as loosening or wear and tear of the new joint. This may mean more surgery is necessary to secure the joint or replace it again.
Fortunately, there are things you can do to help prevent complications with a knee replacement. To prevent blood clots, your doctor may prescribe a blood thinner. You start this medicine in the hospital and may need to continue it for several weeks after surgery. You will also learn how to protect your knee while it heals. Ask your doctor about specific strategies for preventing complications during your recovery.
Regardless of the type of knee replacement you have, a hospital stay will be necessary. Typically, this ranges from 1 to 4 days. You will need to use a walker or crutches to walk after surgery. It can take a few weeks before you are steady enough on your feet to walk without them. Some people find a cane helps them transition to independent walking.
Physical therapy will be a vital part of your recovery. You will start it in the hospital and continue with an outpatient program once you are home. In some cases, returning home safely will require a short stay in a rehab facility. It can take several weeks to regain strength and pain-free knee mobility and function.
In most cases, people return to normal daily activities within 3 to 6 weeks of surgery. This includes driving and household activities. Full recovery after knee replacement can take up to 12 weeks.
Knee implants are mechanical devices. Anything mechanical is subject to wear and tear over time. This means you may need to replace your knee implant at some point in the future. But it's likely your implant will still be functioning well 15 years after your initial surgery. You can help prolong the life of your new knee by:
Exercising regularly to strengthen supporting and stabilizing muscles

Maintaining a healthy weight—implant failure is more likely in people who are overweight

Taking care to avoid trips and falls

Contacting your surgeon at the first sign of knee trouble
Was this helpful?