What to Expect After a Wet Age-Related Macular Degeneration Diagnosis
Was this helpful?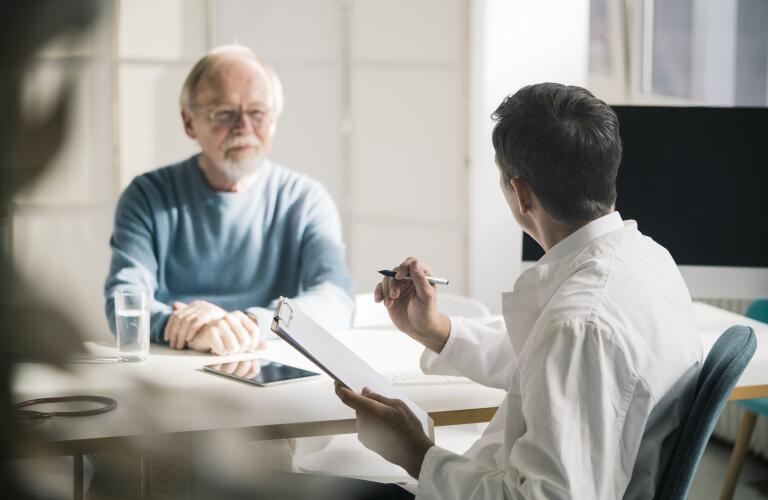 Age-related macular degeneration (AMD) affects more than 10 million people in the United States, making it the leading cause of vision loss in people 50 and older. This disease degrades your central vision by affecting the macula, a region of the retina which is located in the back part of the eye and responsible for central vision. There are two types of AMD: dry and wet. Dry AMD occurs when the macula thins, and it tends to cause gradual vision loss. However, you don't get the luxury of time with wet AMD, which is known for appearing suddenly and causing rapid vision loss. It develops when abnormal blood vessels leak blood or fluid into your macula. This can lead to blurred vision or a blind spot. Fortunately, treatment can slow progression and may even restore your sight if you intervene early. Here's what to expect if you're diagnosed with wet age-related macular degeneration.
After your diagnosis, your doctor will likely want to start you on treatment right away. Here's the biggest incentive for getting treatment for your wet age-related macular degeneration: it can steal your sight. Without intervention, wet AMD is known for leading to irreversible vision loss. Fortunately, treatment can slow down its progression. And with certain types of therapy, you might even regain some of your lost or damaged vision. So don't delay getting started.
Until about a decade ago, there were few effective treatments available for wet AMD. Fortunately, today, new anti-VEGF drugs have changed the game. These first-line medications are injected by your doctor into the affected eye every four to six weeks. Vascular endothelial growth factor (VEGF) is a chemical that normally supports the growth of healthy new blood vessels; however, if someone has wet AMD, VEGF promotes abnormal blood vessel growth, which causes wet AMD symptoms. Blocking VEGF halts or slows this growth, maintaining and even restoring some vision.
Anti-VEGF medications include:
Ranibizumab (Lucentis)
Bevacizumab (Avastin)
Aflibercept (Eylea)
Brolucizumab (Beovu)
An eye injection can sound intimidating, but your doctor will numb the area first so you feel no pain. The whole procedure typically lasts less than 15 minutes and its effects last a month or longer. Possible side effects include eye infections, increased eye pressure, retinal detachment, and seeing "floaters" in your vision.
A less-common type of treatment is photodynamic therapy. This process starts with the injection of a drug called verteporfin (Visudyne) into a vein in your arm. Then your doctor will shine a laser into your eye to activate the drug, which will begin sealing off those abnormal blood vessels causing all the problems.
If none of the other therapies work, and if you meet specific criteria, your doctor may recommend photocoagulation. This procedure involves a high-energy laser that seals abnormal blood vessels under the macula. This stops them from bleeding to protect your vision. However, the blood vessels may regrow and require further intervention.
As you embark upon treatment, experiment with some strategies to help you cope with any vision loss you've already developed. For example, you may find it helpful to install brighter lights in your home and use magnifiers when reading. You can also adjust your computer and tablet settings to display a larger front with greater contrast that's easier to see.
You may also want to seek out professional assistance with your day-to-day activities. Low vision rehabilitation involves working with a trained specialist, an occupational therapist, your eye doctor, or another professional to learn ways to adapt. Wet AMD can reduce your central vision, inhibiting your ability to drive, read, recognize faces, and more–but low vision rehab can provide you with strategies to continue functioning well.
Your doctor will also likely encourage you to embrace some lifestyle changes, which may range from smoking cessation to taking vitamin supplements to eating a diet high in antioxidants to support eye health. You may also need regular eye exams.
As research notes, wet AMD is a significant cause of disability for the people who are affected, and it can take a toll on their quality of life. In fact, it's considered a risk factor for depression. So, you may want to pay extra special attention to your own mental health as you navigate the wet AMD treatment process. Let your doctor know if you're feeling anxious, scared, or upset about your condition. You may find some solace from talking to someone about your fears or concerns.
And don't hesitate to ask for help when you need it. You may benefit from joining a low vision support group, where you can meet people in similar situations who might have tips or be able to offer an understanding ear. And always turn to your doctor when you notice worsening or new symptoms, or if you have any questions about your condition.
Talk to your doctor if you have questions or you're struggling to adapt, because there may be even more strategies that can help you, or it may be time to try a different treatment. In fact, keep a running list of observations about your experience for future doctor's visits. It can be helpful in monitoring your condition and allow you to achieve the best possible quality of life.
Was this helpful?