What Is a Throat Infection and What Can I Do?
Was this helpful?
A throat infection, sometimes called pharyngitis, can be either a bacterial or viral infection. It leads to inflammation of the tissues in the throat and causes redness, pain, and swelling of the structures in the throat. Your throat, or pharynx, is the tube-like structure that carries food to the esophagus and air to your windpipe. Infections of the throat can enter through the mouth or nose. Many of these infections are viral, but others can be caused by bacteria. Streptococcal bacteria are the agents that cause the painful and well-known condition known as strep throat.
Symptoms of throat infection most commonly include pain and a sensation of heat in the throat. The infection may also affect other structures within the throat, particularly the tonsils. Symptoms can range from mild to severe and may include fever, cough, congestion, and other flu-like symptoms, such as body aches. You may also experience swollen lymph nodes in the neck.
If the infection is focused on the tonsils, some clinicians may refer to the infection as tonsillitis.
Read on to learn more about the symptoms, treatment options, and prevention methods of throat infection, including when to contact a doctor.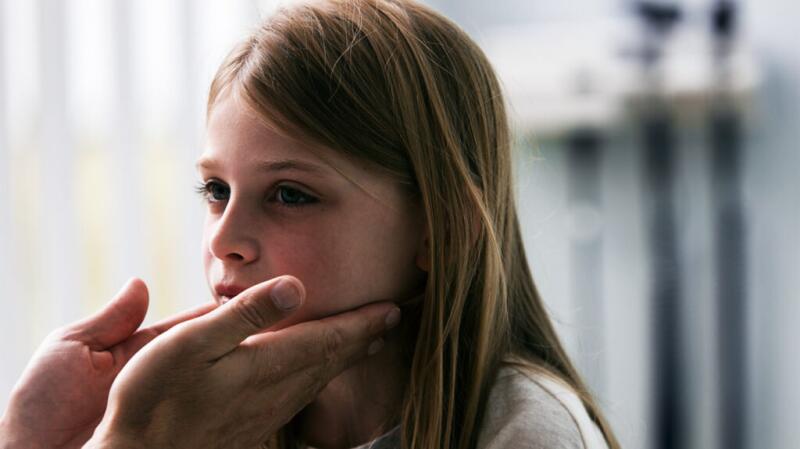 Throat infections with different causes often have similar symptoms. These include:
You may or may not experience all of these symptoms, depending on the cause or extent of the infection. At times, any of these symptoms can become severe.
Learn more about sore throat symptoms and causes here.
You should contact your doctor if you:
have a fever of above 101°F (38.3°C) for more than 1–2 days
have trouble sleeping due to symptoms
notice a red rash
have white patches at the back of your throat or on your tonsils
are having treatment for throat infection, but mild symptoms recur or are persistent
feel concerned for any other reason
Emergency medical attention
Seek immediate medical care by calling 911 for serious symptoms, such as:
choking or severe difficulty breathing
rapid heart rate
sudden swelling of the tongue or throat structures
change in the level of consciousness or alertness, such as:

passing out
unresponsiveness

sudden change in mental status or behavior, such as:
Learn more about when to contact a doctor for a sore throat here.
Throat infections are typically the result of a virus or a bacterial infection.
Some conditions that can cause a sore throat include:
Bacterial and viral throat infections are usually contagious.
The most important step in treating a throat infection is to practice prevention. However, even with the most conscientious efforts, infections can still occur.
Many throat infections resolve by themselves over time or are usually curable with timely treatment.
If your doctor suspects a throat infection, you will probably receive a throat culture. This involves swabbing the throat for mucus or a fluid sample for laboratory analysis. Your doctor will use this to identify the cause of your infection.
Antibiotic therapy is the mainstay of treatment for a bacterial infection and is highly effective. It is important to follow your treatment plan precisely and to take all medications as instructed to avoid reinfection or
recurrence.
Examples of antibiotics include penicillin V (Veetids) and amoxicillin (Amoxil).
Pain relievers can help relieve pain and reduce fever or inflammation. They can come as a spray, lozenge, or liquid to gargle. Examples include:
ibuprofen (Advil, Motrin)
acetaminophen (Tylenol)
certain topical anesthetics
lozenges or gargle agents, such as benzocaine (Cepacol, Trocaine, Cylex), which help reduce pain from throat infections by blocking nerve impulses
Tonsillitis is a throat infection that has spread to the tonsils. One treatment option for tonsillitis is the surgical removal of the tonsils. This may be useful for infections that do not improve with antibiotics.
Your doctor may recommend a tonsillectomy if you have abscesses of the tonsils that they cannot drain or a foul odor or taste in the mouth that does not improve with antibiotics.
Another surgical option involves draining peritonsillar abscesses. This does not usually require the removal of the tonsils at the same time.
In addition to carefully following your medication regimen, you can also limit some sore throat symptoms by:
avoiding smoke or chemical irritants during recovery
drinking plenty of fluids, both warm and cold caffeine-free drinks
eating frozen treats to soothe soreness and heat in the throat
gargling with salt water
getting plenty of rest
humidifying air passages with steam
resting your voice as much as possible
sucking throat lozenges
treating pain and fever as directed
Learn more about natural remedies for sore throats here.
A number of factors increase the risk of developing a throat infection. Not all people with risk factors will get a throat infection. Risk factors for a throat infection include:
advanced or very young age
closed-in work or living spaces
exposure to highly populous areas
working with children
lowered immunity
Ways you can lower your risk of developing a throat infection include:
avoiding sharing food and utensils, cups, or glasses
using sanitizing agents on phones, keyboards, remotes, and other shared surfaces
ventilating work and living spaces as much as possible
washing your hands often
The most common complication is an abscess around the tonsils or at the back of the throat. Complications of an untreated throat infection can be serious.
In rare cases, if you delay treatment over an extended period of time, you could run the risk of sepsis. This occurs if the infection enters the bloodstream.
You can help minimize your risk of serious complications by following the unique treatment plan that you and your healthcare professional design. Complications of a bacterial throat infection include:
an abscess around the tonsils or back of the throat
blockage of the airway
sepsis, a life threatening bacterial blood infection
post-streptococcal glomerulonephritis
Throat infections are usually the result of a bacterial or viral infection. Causes of throat infections include strep throat, the flu, and mononucleosis.
Throat infections of any type cause similar symptoms, which can include redness and swelling in the throat, and difficulty talking and swallowing.
It is important to seek medical treatment if you have a throat infection. Even though some infections clear up on their own, untreated throat infections can lead to complications such as tonsillitis.
Doctors may prescribe antibiotics or certain pain relievers. You can also add some home-care remedies, such as lozenges, sucking on ice chips, and using a humidifier.
Was this helpful?