Depression and Probiotics
Was this helpful?
Today, probiotics are being used to treat symptoms of depression and boost mood, as scientists have established a link between gut health and brain health.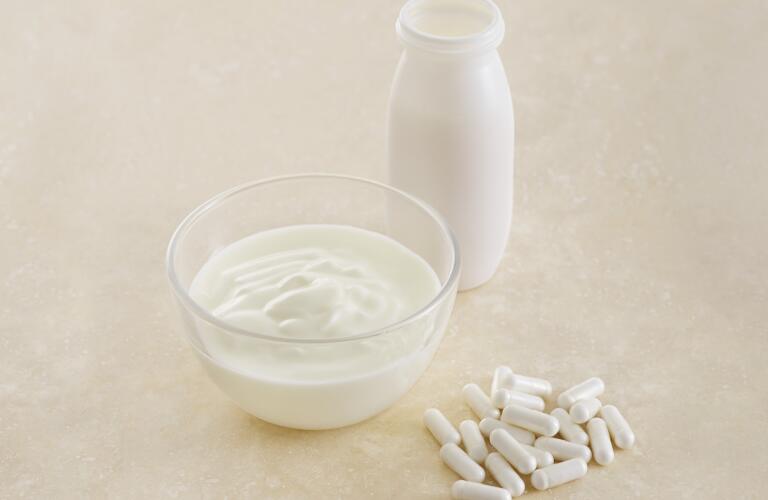 Probiotics are known as "good" bacteria that you can ingest through foods like yogurt, kefir, kimchi, miso, tofu, and sauerkraut—or by taking supplements. Everyone has a wide variety of bacteria in their bodies; some are helpful and some are hurtful, and a healthy balance between the two keeps us functioning well.
Probiotics promote gut health because they balance out "bad" bacteria in your body, easing gastrointestinal problems including inflammation, bloating, and diarrhea. They help your body digest food, produce vitamins, prevent "bad" bacteria from entering your bloodstream, break down and absorb medications, and more.
But probiotics aren't just good for your gut. Today, probiotics are being used to treat symptoms of depression and boost mood, as scientists have established a link between gut health and brain health.
The gastrointestinal (GI) tract communicates with the brain along what's called the gut-brain axis. Microorganisms in your gut, including probiotics, can interact with the brain and affect mood in several ways. An unhealthy gut can send distress signals to the brain, causing stress, depression, anxiety, and brain fog. Studies have suggested that consuming probiotics can restore the bacteria balance, so these signals don't get sent and mental health improves.
Every study involves different people, places, and protocols which can impact the findings in many ways. And research looking at probiotics is limited—although more studies are in the works. Generally, the evidence points to these benefits of treating depression with probiotics:
improved mood
improved ability to manage stress and anxiety
clearer thinking
better quality sleep
increased ability to feel pleasure and joy
The benefits of probiotics may sound so good that you're tempted to grab the first probiotic supplement you see on the grocery shelf. Instead, opt for foods that naturally contain probiotics and make an appointment to talk with your doctor. Effective probiotics are live bacteria that come in many different strains and doses. Studies suggest Lactobacillus and Bifidobacterium strains of probiotics are most helpful for mental health, and your doctor can recommend specific brands or strains that may be right for you. They may also be able to connect you with a gastroenterologist, nutritionist, or registered dietitian to help you explore further.
Another good reason not to take probiotic supplements without guidance? They aren't regulated by the U.S. Food and Drug Administration (FDA). The FDA doesn't vet them for safety and effectiveness, determine the information that must be present on labels, or set standards to ensure probiotics are even still active or alive by the time you buy them. Although adverse effects from taking probiotics are unlikely, it can be a waste of time and money to go down the wrong path.
Probiotics may not be enough to help you manage your depression symptoms, but they can be one tool among many in your toolbox. Talk therapy and medication are still considered the most effective depression treatments available. Many people find additional relief through exercise, relaxation techniques, or journaling. Your doctor will lay out all your options, and you can make better decisions from there.
Was this helpful?