4 Tips for Hispanic People with Depression
Was this helpful?
Depression rates are increasing for Hispanic people in the United States, but often, barriers to care can prevent individuals from getting the help they need. The stigma associated with mental health challenges, along with systemic racism and healthcare inequities, can make it difficult to navigate managing your depression. However, tools and resources are available to help Hispanic people with depression advocate for themselves and receive effective care.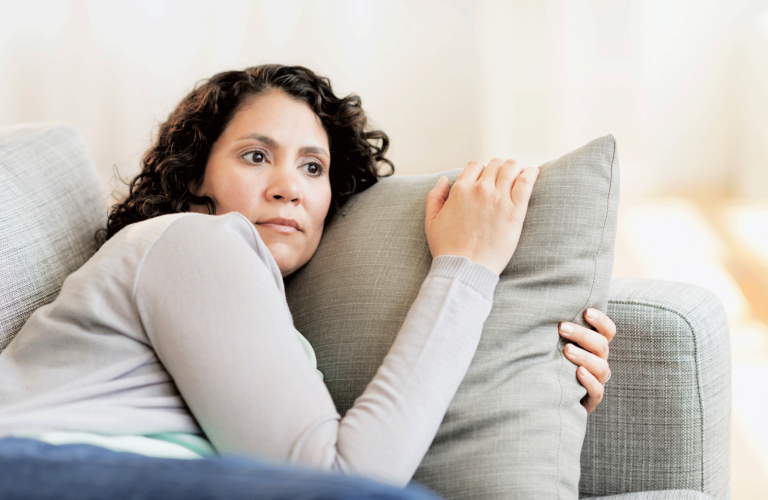 Hispanic is a term that describes someone from a Spanish-speaking background, while Latino refers to someone from Latin America. Although these groups are made of people from different racial and ethnic backgrounds, until recently, medical research tended to consider them as one category. This is why we use both terms here where appropriate.
Depression is a serious mental health condition that negatively affects the way you think, how you feel, and how you act. It requires understanding and medical care that individuals in many communities, including Hispanic people, may find challenging to access. However, there are things you can do to manage your depression, like connecting with the right doctor, advocating for your health, and using available resources.
Partnering with a doctor you trust is crucial when it comes to living with depression, but it's not always easy to find the right fit. You can ensure you receive the right care by looking for a healthcare professional trained in cultural competence – the ability to understand and appreciate the nuances of your cultural background and how it influences your health. A culturally competent doctor will have experience treating people from a variety of backgrounds and will understand the impact that your cultural identity may have not only on your health, but also on your interactions with the healthcare system.
When meeting with a medical practitioner, it can be helpful to ask questions to assess their level of cultural awareness. Whether you seek help from a primary care doctor or a mental health professional, you should finish your appointments feeling heard and respected. If your preferred language is not English, let the office staff know when you schedule your visit so they can arrange an interpreter to be present.
Finding a psychologist who speaks Spanish can make you feel confident about seeking mental health treatment. Search online at Healthgrades.com
and use the language filtering tool, which can be found on the search results page within "All Filters."
Finding a culturally competent doctor or therapist may take some effort, but resources like therapyforlatinx.com, latinxtherapy.com, and the American Society of Hispanic Psychiatry's physician directory can help connect you. You can also call the National Hispanic Family Health Helpline, Su Familia, at 1-866-783-2645 for health information in Spanish and English; Su Familia advisors can also refer you to health care services in your area. Additionally, you can call your insurance company to ask if they have a list of covered mental health professionals with experience treating Hispanic people in your area.
Finding the right doctor can be instrumental to receiving the treatment you need, but culturally competent physicians are not always accessible, so it's helpful to learn how to advocate for your care. In a 2014 study, Latino males were less likely than white people to receive any mental healthcare for moderate or severe depression. Non-Hispanic white people were three times more likely than Hispanic people to have received antidepressant medication in the past month. There are many potential factors contributing to these disparities, from gaps in depression screenings to difficulty accessing appropriate care.
However, you can take steps to advocate for yourself when it comes to receiving the right depression treatment. Come to your doctor's appointments armed with questions about the treatments you're taking and why they are the right fit for you. Ask your doctor what new medications or therapeutic techniques are available that might work well for your situation. Look for a doctor who uses a collaborative approach in treatment planning, so you feel like a partner in your care.
You should also keep track of your depression symptoms and any side effects of taking medications. Show your doctor your notes and look for any patterns. If you're experiencing side effects you cannot tolerate, talk to your doctor about other options. If your doctor does not listen to your needs, find a new one who will. It's worth the work to prioritize your mental health and wellbeing. Depression can make it difficult to take action, so consider enlisting the help of a loved one. They can accompany you to appointments, take notes, and help you track symptoms if you feel overwhelmed.
Your concerns or experiences may be different than those of white people because of barriers to adequate healthcare. These barriers can include language, legal status, privacy concerns, lack of insurance, faith, and stigma. However, there are organizations available to help you navigate these challenges and find support.
You can connect with people like you living with depression via a variety of online and in-person support groups. Ask your doctor or therapist for a recommendation to a local support group or search online for support groups in your area. You may want to explore online support tools created by national organizations. For example, the National Alliance on Mental Illness offers many support groups for people with depression, including Spanish-language groups in some states; the Anxiety & Depression Association of America hosts a Spanish-language online support group; 7 Cups of Tea provides a platform for young People of Color to share their depression experiences and tips; and the Depression and Bipolar Support Alliance offers several specialized support groups for people of different backgrounds, including People of Color.
Most support groups are free of charge, but you may need help affording doctor's visits, therapy sessions, or depression medication. If finances are preventing you from getting help, contact a community health clinic in your area or your local government to see what assistance programs or services you qualify for. Additionally, many depression medication manufacturers offer payment assistance for low-income individuals.
Of course, when it comes to finding support, it's also important to lean on loved ones. It can seem risky to share your depression experience with others in your community, especially if you've felt the pressure of mental health stigma. However, the people who love you want to help you. Even if you're not comfortable sharing all the details of your diagnosis, don't be afraid to confide that you're having a hard time and can use some assistance. Ask family or friends for help tackling everyday tasks if your depression is making it hard to get through your to-do list. Turn to close friends when you need someone to be present and listen. You don't have to do everything on your own, and you might find that your loved ones have their own depression experiences, as well.
People in the Hispanic community can often be private about personal challenges. This can lead to a lack of education about mental health and reinforce the stigma around mental health as a taboo subject. This stigma can make you feel like you're the only one experiencing depression and it may seem impossible to find help or speak out. You may feel ashamed or frustrated that you can't just "snap out of it."
It's important to know that depression is a medical condition that can be treated with medication, therapy, or a combination of both. The majority of people with depression require treatment to manage their depression. It may feel like a big risk to get help or to speak about your depression, but in doing so, you might find others in your community will support you and share that they're struggling, too.
Mental health stigma can be fought if more people are willing to speak out about their experiences. By seeking help, you can educate yourself and others, find relief, and choose empowerment over shame.
You can start small by engaging with other people with depression on social media or online support groups. Discussing your depression with others can help you become more comfortable discussing it with your loved ones and those in your community. Fighting stigma is an important step to getting quality healthcare. You can make a difference by knowing that depression is not your fault and that there are people and resources available to help you on your journey.
If you have any questions or concerns about your symptoms or treatments, be sure to speak with your doctor. Working with a trusted medical professional, finding a treatment that works for you, and connecting to others with depression can help you manage your mental health and feel supported by your community.
Was this helpful?