How to Treat the Flu at Home
Was this helpful?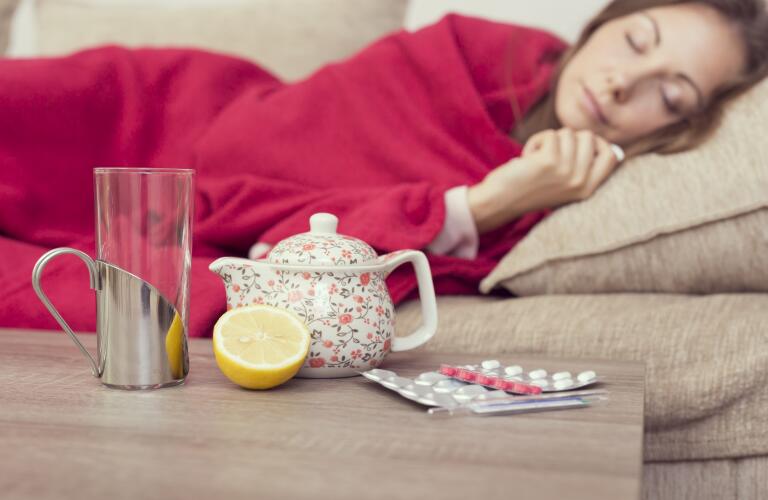 Influenza—commonly called "the flu"—is a respiratory illness that causes high fever, body aches, extreme fatigue, coughing, and congestion. Most cases of flu don't require medical attention, and you'll likely feel better in a week to 10 days even without treatment. But, starting supportive home care when you first notice the signs and symptoms of flu can bring relief and may even shorten the duration of your illness. Get the facts on flu home remedies about how to successfully treat the flu at home.
Early flu symptoms include the sudden onset of fever, fatigue, and body aches. Colds come on gradually; the flu hits all at once. When you notice flu symptoms, head for home. Influenza is highly contagious, so people with the flu should remain at home (unless medical care is needed) to avoid infecting others. According to the Centers for Disease Control and Prevention, people who have the flu should stay home until they've been fever-free—without the aid of fever-reducing medication—for at least 24 hours.
Sleep boosts the immune system, so nap when you feel tired. Trying to "power through" the flu is not a good idea; you'll recover more quickly if you give your body the rest it needs to get rid of the flu germ on its own.
Drink plenty of fluids. High fevers can cause dehydration—which will make you feel even worse—so keep a glass of water or cup of tea nearby and take a few sips at least every hour. Your urine should be a pale light yellow. Dark yellow urine is a sign you need to increase your fluid intake.
Some time-tested home remedies can help ease the cough and congestion that frequently accompany flu. Home remedies for congestion include:
To ease a cough, try:
There are no over-the-counter medicines that can cure the flu or shorten the duration of the illness. Available cold-and-flu products help relieve symptoms.
You may want to consider:
It's best to steer clear of combination cold-and-flu medicines that contain many ingredients. You may end up taking medicine you don't really need, and could inadvertently take too much acetaminophen, for example, if you take a combination product plus Tylenol.

People who are at high risk for flu complications—including children younger than 5 years, adults older than 65, pregnant women, and people with diabetes, heart disease, asthma, or kidney or liver disease—should see a healthcare provider as soon as they develop early flu symptoms. The provider can prescribe an antiviral medication to reduce the severity of the illness, but the medication is most effective if taken within 48 hours of developing symptoms.
Otherwise healthy people usually do not need to see a doctor for the flu. However, if you notice any of these symptoms, call your healthcare provider right away:
With proper home care, most people will feel better in a week or two.

Was this helpful?