Understanding Brittle Asthma
Was this helpful?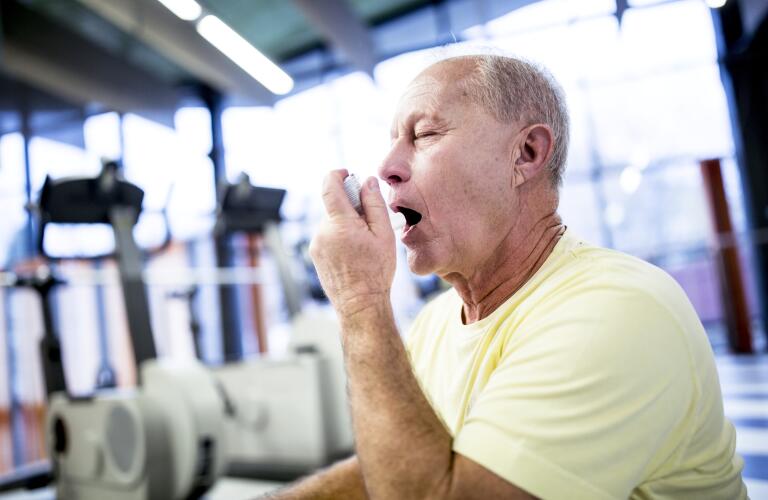 Over 25 million Americans live with asthma, a chronic lung disease resulting from inflammation and extra mucus inside the airways. There are several different types of asthma, and most can be successfully managed with a combination of lifestyle changes, avoiding triggers, and medication. However, one form of asthma, brittle asthma, can be more difficult to treat.
Brittle asthma is a rare type of very severe, often unpredictable, asthma. This condition isn't common—but if you have brittle asthma, you'll want to know how you can stay as safe and healthy as possible. Working with your doctor to develop a treatment plan for brittle asthma is the best way to protect yourself.
Unlike other forms of asthma, which may be easier to control, brittle asthma is typically much harder to predict. People living with brittle asthma experience asthma attacks in which the airways inside the lungs swell and, in some cases, close. For many, this inflammation is also accompanied by increased mucus, which may make breathing that much more difficult.
This unstable condition may be very difficult to manage with standard asthma treatments. In many cases, people living with brittle asthma must receive professional medical care during flare-ups. People with brittle asthma will need to stay in touch with their doctor more regularly and will likely require higher doses of their medications to find relief.
There are two types of brittle asthma:
Type 1 brittle asthma: Doctors diagnose type 1 brittle asthma if you have wide fluctuations in your peak expiratory flow (PEF) rate throughout the day. These fluctuations occur even though you take the maximum amount of asthma medication your doctor prescribes.
Type 2 brittle asthma: If you have type 2 brittle asthma, you're more likely to experience sudden and extremely severe asthma attacks. Without immediate medical attention, these attacks may be fatal.
Doctors don't know exactly what causes brittle asthma. But it's thought that many of the same risk factors for less severe forms of asthma can increase your risk. These risk factors include:
Exposure to asthma triggers, such as pollen, fungal spores, or certain foods
Other conditions, such as respiratory infection or sinusitis
Psychological problems, such as depression and anxiety
Research shows that women, especially those between the ages of 15 and 55, are more likely than men to be diagnosed with type 1 brittle asthma.
People living with type 1 brittle asthma may experience a range of symptoms similar to less severe forms of asthma. These symptoms include chest pain or tightness, shortness of breath, and wheezing or coughing fits.
People with type 2 brittle asthma experience the same symptoms, but they come on extremely quickly and unpredictably. Those with type 2 brittle asthma may be symptom-free for months or years and then experience a severe asthma attack requiring help from a doctor.
Treatment for brittle asthma is generally more difficult, since many patients already take the maximum amount of asthma medication allowed each day. You may already take high doses of inhaled corticosteroids and bronchodilators, and you may think you've run out of options. But it is still possible to find ways to manage your condition. Treatment for each type of brittle asthma centers around controlling symptoms and avoiding known asthma triggers.
If you have type 1 brittle asthma, your doctor may supplement your existing treatment with other medications, such as oral steroids. Your doctor may also recommend ways to reduce your exposure to known asthma triggers, including making changes to your diet and changing your daily routine to avoid environmental triggers. In more severe cases, treatment with injectable medications may be necessary to control your symptoms.
Because type 2 brittle asthma is a medical emergency, treatment takes place at a hospital or other healthcare center. Generally, the first line of treatment involves injecting adrenaline, a hormone also known as epinephrine, into the patient to bring symptoms under control. Once symptom control is achieved, your doctor will help you determine next steps.
Brittle asthma isn't a common condition. But for those who have brittle asthma, it's important to follow your doctor's recommended treatment plan as closely as possible to prevent asthma attacks. If you have asthma and are concerned about your risk for brittle asthma, talk with your doctor about further testing that could help diagnose this condition.
Was this helpful?