PHYSICIAN VOICES

An Expert's Perspective on Treating Severe Asthma

Was this helpful?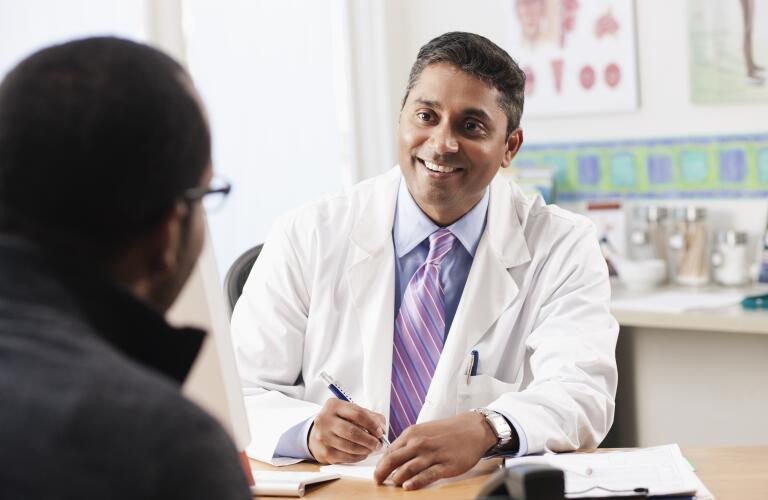 Severe asthma—asthma that's not well controlled despite trying all the usual treatments—can be difficult to manage. Fortunately, new medications are available that can help patients breathe more easily and control symptoms effectively. Pulmonologist Praveen Akuthota, MD, answers common questions his patients ask him about staying on top of severe asthma.
A: Once patients are diagnosed with severe asthma, they're typically already taking a whole collection of medications, but their asthma is still not well controlled. The next step might be adding a biologic agent, which lowers levels of an antibody that creates inflammation. We might also try adding newer therapies that block proteins in the blood and tissues called cytokines. One type of cytokine, called IL-5, helps eosinophils survive and develop; eosinophils contribute to inflammation that makes asthma worse. New IL-5 inhibitors lower the number of eosinophils in the blood, decreasing inflammation and alleviating asthma symptoms. Not everyone's severe asthma is related to eosinophils, but if you do have eosinophilic asthma, these new medications can greatly benefit you.
A: If you look at old papers about asthma from 100 years ago, you'll find we actually knew a lot about the condition back then. The century-old descriptions of lung specimens from people with asthma are similar to how we'd describe asthma today; they detail airways that are tightened and inflamed, with lots of abnormal cells in the area. Now, however, we know more about why the inflammation happens and what causes these symptoms. We've also learned that different people have different kinds of asthma; some patients might have allergic asthma, triggered primarily by allergens in the environment, some may have exercise-induced asthma that appears with activity, and some may have what's called eosinophilic asthma, in which tiny white blood cells called eosinophils contribute to inflammation.
A: Personally, I lead a basic science lab that looks at the biology of eosinophils; we're trying to find out why eosinophils do what they do and what the nature of eosinophilic inflammation is. Research from my lab and from many others has helped us learn that higher numbers of eosinophils drive inflammation and worsen asthma symptoms. Today, new medications called IL-5 inhibitors work to lower the numbers of eosinophils in the bloodstream and tissues, reducing the number of severe asthma flares patients experience. New biologic agents are also a result of years of research—given by injection or infusion, biologic medications work at the root to block inflammation from occurring, easing asthma symptoms in the process. These new medications have been instrumental in helping patients with severe asthma stay in control, and I anticipate many more treatment options coming down the pipeline in the future. Asthma treatments continue to get more sophisticated and targeted, so patients should remain hopeful that they'll find something that works for them.
A: It's important to note that asthma symptoms are often triggered by specific allergens and other environmental conditions, and every asthma patient responds differently to different triggers. The most common triggers include dust mites, animal dander, cockroaches, pollen, mold, and hot or cold weather. The number one way to live a healthy lifestyle with asthma is to identify which triggers affect you and avoid them as much as possible. Some people have exercise-induced asthma, in which asthma symptoms flare during or after exercise. If exercise makes your symptoms worse, ask your pulmonologist about using your rescue inhaler before beginning activity. It's crucial that people with severe asthma stay active and prevent their bodies from becoming deconditioned. It can be a tricky balance, but patients should do their best to not let their asthma prevent them from maintaining a healthy level of activity.
Many of my patients ask me if there's a special diet for asthma, but I don't yet have an answer for them. We're still researching the connection between food and asthma, and I'm hoping we'll learn more about that soon. In a general sense, though, patients should eat a balanced diet low in saturated and trans fats and high in fiber, fruits, veggies, protein, and lean meats. And, of course, we want patients to commit to their treatment plans as well as make lifestyle changes.
It's an exciting time to be treating asthma, and particularly severe asthma, as we know more about potential causes and treatments than ever before. Developing targeted treatments that stop inflammation at the root has been an enormous advance, and for people with severe asthma, these new treatment options may help them gain control of their symptoms and get back to living their lives.
Was this helpful?