5 Things to Know About Eosinophilic Asthma
Was this helpful?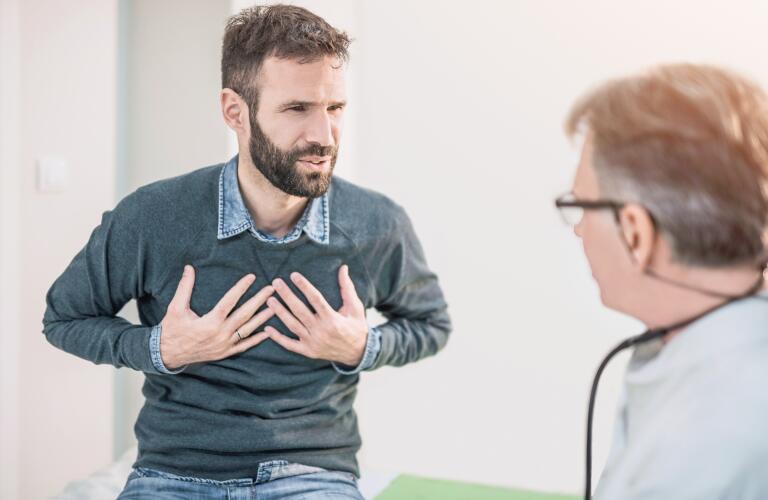 Between 8-10 percent of people in the United States have some type of asthma, a chronic lung disease characterized by inflammation in the airways, making it harder to breathe. It's important to know what kind of asthma you're dealing with so your doctor can choose the most effective treatment to address it. You may not be as familiar with eosinophilic asthma, however, which is a subtype that can be severe.
Asthma is asthma, right? Nope. There are a number of different types of asthma, and they don't even all have the same triggers or symptoms. Generally, speaking, with asthma, the lining of the airways swells or gets inflamed, and they often produce extra mucus. That can inhibit a person's ability to breathe easily.
But there are variations of subtypes, which includes eosinophilic asthma. Eosinophilic asthma tends to be a more severe type of asthma. It's rare, compared to some other types, and it tends to affect adults much more often than children.
What's an eosinophil? Eosinophils are a special category of white blood cell, so they're part of the immune system. People with eosinophilic asthma tend to have elevated levels of this type of white blood cell. What happens during an asthma attack: these white blood cells travel to your airways and cause inflammation. The inflamed airways swell, making it hard for air to pass through.
Your doctor may want to meaure the amount of eosinophils by performing a bronchial biopsy or sputum induction, which involves inhaling a type of saline solution and then coughing up the mucus. They can also run a blood test and look for eosinophils in your blood. If they detect an elevated level of eosinophils in your blood, sputum or lung tissue, it may be a sign they're causing your asthma symptoms.
We know what tends to trigger other kinds of asthma. Exposure to chemicals or other workplace irritants can cause asthma symptoms to develop in some people, while others notice their symptoms develop after exposure to common allergens, like animal dander, pollen, or mold spores.
But experts just aren't sure--yet---what causes eosinophilic asthma. They do know it's much more common in adults than in children, with onset usually occurring between 35 and 50 years of age. Also, people who develop this type of asthma actually don't usually have underlying allergies.
When you think "asthma symptoms," you probably think of typical symptoms like wheezing, shortness of breath, chest tightness and coughing. You can experience all of those symptoms with a case of eosinophilic asthma, but you might also tend to experience shortness of breath more than anything else. Sometimes the symptoms even mimic those of another lung disease, COPD, or chronic obstructive pulmonary disease.
However, what sets eosinophilic asthma symptoms apart from symptoms of other types of asthma is the severity. People with severe asthma often need higher doses of inhaled corticosteroids and systemic corticosteroids in an attempt to get it under control--and even that doesn't always work. And unfortunately, when you can't manage or control your asthma very well, that can raise the risk of a serious exacerbation that could land you in the hospital.
In the past, your doctor would probably have tried you on those corticosteroids, with varying degrees of success. However, in recent years, researchers have developed biologic therapies that target eosinophils. Biologic drugs are often very complex medicines that come from a variety of natural sources but are manufactured using biotechnology.These drugs seem to be effective because they're more specifically targeted to this subtype of asthma. And there are even more potential treatments in the pipeline.
Talk to your doctor if you notice that you're developing any of the hallmark symptoms of asthma, including those of eosinophilic asthma. Your doctor may want to perform a test to determine what might be the culprit. With the correct results, you can get started on the most appropriate treatment for your diagnosis, whatever it may be.
Was this helpful?