How Hives Appear on Skin of Color
Was this helpful?
Hives can be uncomfortable and frustrating, and it's important to get an accurate diagnosis and treatment to find relief and prevent complications. Hives may appear different depending on your skin tone, so make sure you know how to recognize them and can connect with the right doctor for the care you need.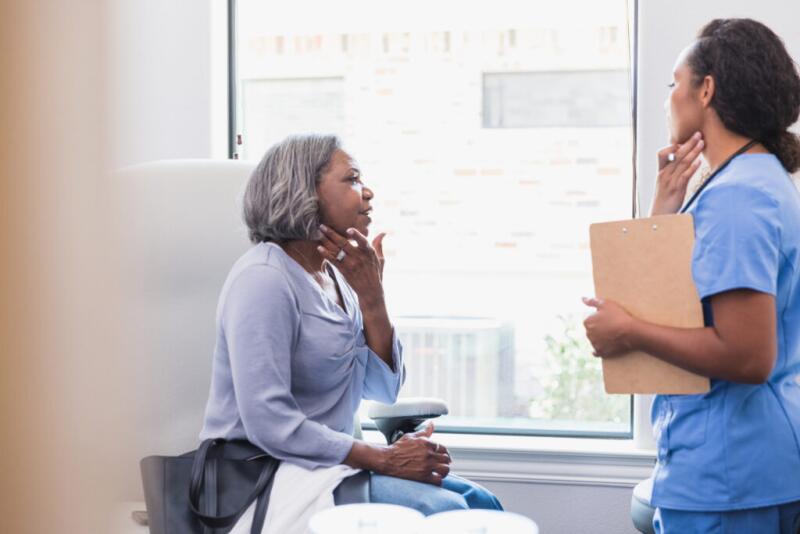 Hives, also called urticaria, can emerge when your immune system releases histamine and other substances in response to an allergen or triggers like extreme temperatures, exposure to sunlight, and stress. Connect with a doctor who knows how to recognize hives in skin of color so you can receive the right diagnosis and treatment.
Like other skin conditions, hives can appear differently on darker skin than lighter skin. Hives are typically raised bumps of varying size and shape. They may look like welts and can itch, burn, or sting. On lighter skin, they may look red or pink, but on darker complexions, they can appear deep red, brown, or match your natural skin tone.
In rarer cases, hives can occur with angioedema, a condition that causes deeper swelling in the skin tissues and mucous membranes. This swelling typically affects the lips, mouth, cheeks, or eyelids, and may signal a serious allergic reaction that requires immediate care.
Some people experience chronic hives – hives that persist for longer than 6 weeks. In most cases, hives appear on the skin for a brief period of time.
Finding the right dermatologist to assess your hives is crucial, but People of Color can face barriers to quality care. Since fewer than 15% of the images in dermatology teaching materials feature skin of color, doctors may be unprepared to diagnose and treat skin conditions in People of Color. In fact, hives are among the skin conditions medical students are less likely to recognize in skin of color — in one study, fewer than 60% of medical students correctly identified photos of hives on darker skin tones, while approximately 80% recognized them in lighter skin tones.
As a result of these discrepancies in teaching materials, doctors may look for redness as a sign of hives. However, People of Color don't always develop red hives. Instead, hives on darker skin tones may be slightly darker or lighter than an individual's natural skin color.
Connecting with a doctor you trust is the first step towards finding relief from hives. You may want to look for a doctor trained in cultural competence, which means they understand the nuances of how hives present in different shades of skin, and they'll also have insight into how race influences a patient's experience in the healthcare system. If you feel your doctor isn't correctly identifying your hives, or they don't listen to your concerns, you may want to reach out to another healthcare professional. When you make your first appointment, ask if the doctor has experience treating skin conditions in People of Color. You can also find a Physician of Color using resources like BlackDoctor.org, Huedco.com, or the Skin of Color Society.
Getting relief from hives depends on the underlying cause, although often, the cause is unknown. People who develop hives as part of an allergic reaction can try to determine the trigger and avoid it. They may also find relief from antihistamines. People who don't know the cause of their hives may work with their doctor on a treatment plan. Your doctor may recommend dietary changes, or taking certain steps to help identify and avoid your triggers.
If antihistamines aren't enough, or you aren't able to avoid triggers, medications like biologics and other immunosuppressants may help.
Together with your doctor, you can find the best strategy to prevent and manage hives.
Was this helpful?