Advertising on Healthgrades
Capture and convert high-value consumers
Health systems are under pressure to recoup lost revenue with limited budgets. Patient acquisition and retention strategies must focus on initiatives that:
Quickly capitalize on pent-up demand
Capture commercial volume
Find the most valuable patients and consumers for priority services
Drive revenue growth
All these goals point to leveraging digital strategies that target consumers actively looking for care. As a healthgrades.com partner, you'll generate immediate engagement with a high-value audience, drive commercial volume to key service lines, and promote your telehealth and virtual care access points — with guaranteed results.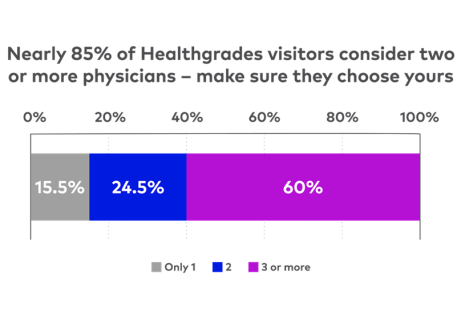 Attract and retain patients you wouldn't have gotten anyway
Now more than ever, you need a strategy for the patients who are shopping for a healthcare provider but don't come to your website or click on your Google ads. Consumers who have done their preliminary research, gathered recommendations from friends and social channels, and are ready to appoint come to healthgrades.com. By promoting your brand and service lines on healthgrades.com, you drive incremental, commercially insured patient volume with guaranteed conversions.


We saw a 23% increase in commercially insured patients over all other channels. Our CFO said it's the only proven method he's seen that showed we were bringing in more commercial patients.
Megan Yore, Chief Marketing & Communications Officer
Spectrum Health
See what your results could be
Increase visibility for your brand, service lines, and providers with the largest audience looking for a doctor online
Attract new patients who are 40% more likely to be commercially insured
Drive appointments for your most profitable service lines with guaranteed conversions.
Consumers are searching for doctors in your market
Discover how many consumers are actively looking for doctors in your market by specialty, and the volume of encounters this represents when you include healthgrades.com in your digital mix. Get your free analysis today.