Three Signs Your Medical Call Center Needs a Revamp
Was this helpful?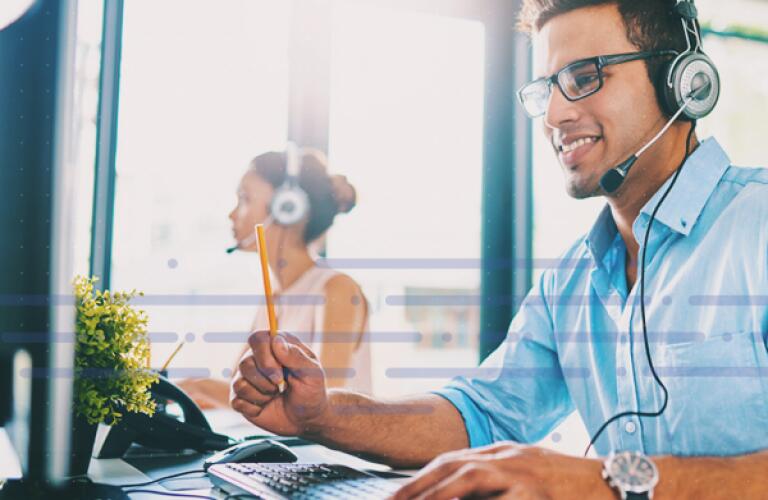 Today's medical contact center must meet high expectations. Patients want high quality service, minimal wait times, and friendly, efficient staff. Typically, consumers have had high expectations regarding their overall experience with the contact center — and with campaigns becoming more sophisticated, contact center agents must maximize their impact by properly directing inquiries along the correct conversion pathway. During a public health crisis, contact centers can help direct callers to the right care delivery and screening options allowing them to focus limited resources on the patients most in need of care.
Health systems recognize the importance of connecting personally with patients, especially as they try to manage call volume and triage calls during a public health crisis. Unfortunately, many medical contact centers have outdated, disjointed technology and cannot leverage omnichannel or cross-channel communications. In a consumer-driven healthcare environment, dissatisfied patients make the difference between growth and stagnation.
Many healthcare organizations don't realize that they can more than double their lead-to-patient conversion rates if contact center agents take the appropriate actions when a patient calls in response to a marketing campaign. Of course, the right software must be in place so that your agents have the tools they need to "close the sale."
Similar to a website, the contact center serves as a figurative front door to the health system. If a contact center interaction creates a negative first impression, patients are likely to look elsewhere for care. Health systems must reject the traditional approach to medical contact centers, where "switchboard operators'' are responsible for directing calls to the appropriate provider, department, or individual. Instead, they must prioritize a more sophisticated approach that positions itself as a core asset that cohesively supports their clinical, marketing, and administrative operations.
Healthcare providers must pay attention to a variety of symptoms that indicate their medical contact center isn't withstanding the test of time. Here are key signs that your medical contact center needs a revamp to improve the patient experience.
Medical contact center agents have a stressful job. Depending on the type of contact center and its purpose within the health system, agents may face hundreds of different types of inquiries from patients, family members, hospital liaisons, and providers on a daily basis. They're also managing protected health information (PHI) and other highly sensitive information, which adds pressure to an already complex and detail-oriented job. If contact center agents are not sufficiently supported by their organizations, they're likely to burn out: According to research by QATC, contact centers have an annual turnover rate of between 35 and 40%.
If your contact center's agents are declining in performance, showing signs of fatigue, or even failing to show up for their shifts altogether, it's more likely due to a problem within your contact center infrastructure than with your employees themselves. To reverse and prevent burnout, health systems should pay close attention to how they structure contact center staff schedules, incentivize agents, and support job functions with technology.
Traditional contact centers tend to reward agents based on speed (time to call completion) and total contacts (the number of calls handled per agent per day). Modern contact centers prioritize first call resolution, which makes for a much better patient experience. Callers don't want to feel rushed through a conversation – often, one involving sensitive PHI – only to be put on hold and transferred to yet another agent because the first one was unable to complete one or more transactions.
By cross-training center representatives to answer a variety of questions and provide a variety of services in a single call, you increase your agents' ability to handle multiple types of inquiries on a single call and increase their ability to meet first call resolution goals. You should also adjust your incentive structure to reward agents for providing a better customer experience as opposed to handling the most unique contacts in a short period of time. For agents to achieve these goals and work in alignment with broader health system initiatives, you must have the right technology. An omnichannel contact center solution enables communications not only over the phone, but via email, SMS, push notifications, and social media. Today's patients expect their healthcare communications to be continuous across platforms: If they submit an inquiry online, they expect the agent they speak to over the phone to be aware of it.
When agents are made to feel part of a larger team working towards a common goal, they'll experience less burnout and become more valuable resources who drive patient loyalty.
Health care contact centers handle a lot more than scheduling and coordination of care. While catering to existing patients is a significant function, today's contact centers are also increasingly relied upon for marketing initiatives and campaign response. Some larger health systems have separate, marketing-designated contact centers to collect information from prospects; register them for seminars, training programs, or wellness events; and steer them toward the appropriate service line for treatment. However, if a patient would like to make an appointment, they're often transferred to a team that focuses exclusively on scheduling. These fragmented channels create a disjointed, confusing journey for the patient and make it feel as though each office and department operates separately. This doesn't do much to build patient trust or maintain loyalty.
Examining your underlying infrastructure will help your marketing contact center meet yearly goals and drive significant business value. Digital calls-to-action need to be responded to, scheduled, and measured to determine the ROI for marketing dollars spent. Online appointment scheduling can ease some of the call volume, while also providing a convenience that consumers have come to expect.
Since a patient's journey is not necessarily straightforward, agents need to know which actions took place before the patient scheduled an appointment. Then, they need to optimize their outreach techniques based on those historical insights. This will allow them to speak directly to the patient's motivations, improving satisfaction with the health system overall. Getting this broad view of how patients interact with your health system can be difficult – which is why the right software is so critical for marketing-focused medical contact centers.
With a healthcare CRM-enabled contact center, agents are equipped with comprehensive caller profiles when making outbound calls or resolving inbound inquiries, allowing them to see exactly which marketing materials a prospective patient has interacted with before calling. Using this information – along with the marketing collateral, articles, and clinical protocols at their fingertips – agents can engage in highly personalized, intuitive interactions that build trust and encourage patient loyalty. The result is higher caller conversion, improved efficiency and ROI, and the opportunity to proactively cross-sell services.
Medical contact centers handle large volumes of patient inquiries daily, many of them operating around the clock to route emergency after-hours calls. With large numbers of calls comes large quantities of data, all of which must be properly stored and encrypted to protect patient privacy. Older systems become sluggish when inundated with more data than they can handle, exposing data silos in contact center operations.
Many health systems still employ multiple technologies to support their contact centers, meaning agents must navigate up to 10 different systems and screens during a single call. Data entered in one system often isn't automatically synced with others, requiring agents to repeatedly ask patients for contact information or spend too much time copying and pasting their information into multiple interfaces while the patient sits idly by. This lack of integration increases the potential for human error, detracts from the patient experience, and decreases overall efficiency. Integrating the EMR with appointment scheduling platforms radically increases efficiency and satisfaction – but most health systems have yet to take this critical step.
A centralized, CRM-enabled contact center is the gold standard for today's medical contact center. By integrating marketing data from the healthcare CRM with clinical and demographic information from the EMR, contact center agents have access to complete patient profiles and relevant contextual information on a single screen. Plus, with intelligent call routing and call telephony integration, agents are better prepared for callers' requests. They are armed with key details (such as inquiries recently submitted online or via email) before they even pick up the phone.
If your medical contact center is suffering from sluggish systems, frequent unmet spikes in call volume, or low patient satisfaction scores, it may be time to update your technology. An omnichannel contact center solution increases the efficiency of patient communications and facilitates engagement, whether by phone, email, SMS, or app-based communications. Unlike traditional medical contact center technology, a CRM-enabled system brings multiple channels together to deliver a unified, personalized patient experience.
When you reevaluate the way your medical contact center is managed, you can uncover a range of benefits that will help you meet and exceed rapidly shifting patient expectations. The right approach to your medical contact center will result in increased patient satisfaction, greater efficiency, and increased overall business value. However, health systems can't enjoy these benefits without overcoming a few challenges first. The best tool for your contact center is CRM-enabled contact center technology that will keep pace with mounting consumer demands.
Many health systems are beginning to realize that contact centers play a valuable role in the patient experience. Take the Dana-Farber Cancer Institute, for instance. After implementing a comprehensive clinical contact center solution, they experienced a 22% increase in daily new patient intakes. In addition to this, they received glowing feedback – including a caller who said the representative made them feel like "we were the most important patients at Dana-Farber."
By implementing a contact center solution that creates comprehensive, centralized caller profiles, your agents will enjoy greater efficiency and a greater ability to find, guide, and keep the high-value patients that your health system relies on.

Was this helpful?