The Importance of Cultural Competency in Condition Education
Was this helpful?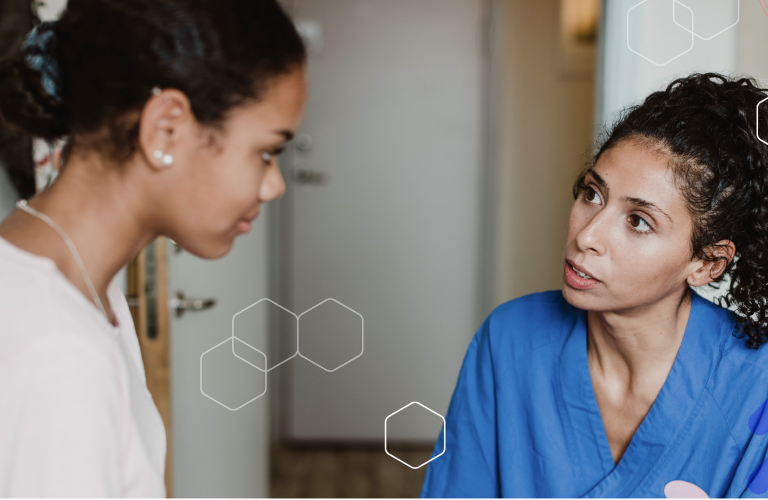 Diversity, equity, and inclusion are at the heart of Healthgrades' mission to connect patients to the right doctors. Take a closer look at how we elevate content for and about historically marginalized groups.
Finding the right doctor for you isn't just finding a doctor who's an expert in your condition; it's also finding someone who understands how your racial and gendered experience can impact your health. A report from the Centers for Disease Control and Prevention (CDC) indicates that 48.5% of all adults believe it's important to have a physician or specialist who shares their culture, and this number drastically increases among People of Color. However, the same report found that the People of Color surveyed were significantly less likely to find a healthcare professional who shared their culture compared to white participants.
Although grave disparities still exist in the healthcare space, diversity, equity, and inclusion (DEI) have become top priorities for health systems and pharmaceutical advertisers. When patients are treated at a hospital with a commitment to DEI, they have more transparent physician-patient relationships that can lead to better communication and better outcomes. Also, if it's easier for patients to find condition information that speaks to their unique experience and propels them to seek a specialist, it's then easier for pharma advertisers to connect with the patients who would benefit most from their brand.
Let's examine the impact of healthcare gaps on historically marginalized communities and explore how Healthgrades' DEI initiatives help patients make the best healthcare decisions for them.
Why DEI Matters to Patients
Disparities among racial, gender-based, and cultural groups manifest in healthcare more often than they should. Consider how the mortality rate for Black infants is more than double that of white infants, or how Latinos and Native Americans are at a 30% higher risk of diabetes than white individuals. The pandemic has highlighted these inequities further — People of Color are significantly more likely to die from COVID-19 than white patients. Gender, race, culture, and medicine interconnect for many People of Color, and partnering with a doctor who understands these relationships reduces the likelihood that patients will be minimized, misinterpreted, or discriminated against.
Unfortunately, it's difficult for many individuals to find doctors who are sensitive to their racial and gendered identities. Around 40% of active physicians are People of Color, and although recent surveys see this number inching upwards, the proportion of Black physicians who've entered the medical field has only increased by about 4% in the past 120 years.
As patients become more proactive about their health and more aware of social inequities, they're more inclined to search for doctors and specialists who share similar life experiences. Around 40% of Hispanic patients look for Spanish-speaking doctors when choosing a medical practice, women prefer female physicians and specialists, and patients are most comfortable with doctors who share the same racial background. Several studies have also indicated that appointments are longer and more meaningful when a patient sees a doctor of the same race, with higher overall patient satisfaction.
However, patient choice isn't the only area where cultural competence matters. In a time where most people begin their patient journey online by researching symptoms, patients deserve access to healthcare information that acknowledges the fact that certain conditions affect different populations disproportionately. For example, Black women are three times as likely to develop uterine fibroids as white women. Also, Black women tend to develop uterine fibroids at a younger age and experience more severe symptoms. They're also more than twice as likely as white women to undergo a hysterectomy to treat fibroids, despite the availability of less invasive techniques. If you're a Black woman searching for information on fibroids or looking for a specialist who treats this condition, DEI-informed context can be critical.
The need for diversity of representation in healthcare isn't a straightforward issue to address. It will take time and attention to break down the social, economic, and environmental barriers preventing historically marginalized communities from getting the care they need. Health systems and pharma advertisers must make a conscious effort to be more inclusive and move the needle.
Healthgrades' Commitment to DEI
Ensuring every patient can connect to a trusted doctor or specialist is at the heart of what we do at Healthgrades. Patients want to feel welcomed and represented in times of need, but culturally competent healthcare information can be hard to find. DEI is a core value of Healthgrades' brand, and we strive to reflect that in our content, our services, and our community. Here are some of our DEI-focused programs and initiatives:
Content that recognizes and contextualizes current disparities in condition treatment
Editorial guidelines that center on conscious language and cultural competency best practices
A strong focus on elevating the voices of Black, Indigenous, and People of Color (BIPOC) communities, including first-person testimonials of healthcare experiences
Diverse casting for all educational and informational video content and closed captioning for every video
Content writers, editors, and medical reviewers from all backgrounds
Comprehensive user testing to ensure our products appeal to a diverse audience
Ongoing gap analysis to locate blind spots in published content
An annual employee engagement survey to track accountability and progress towards DEI goals
DEI influences our editorial presence and overall brand, but we are always working to do more.
Expanding Healthgrades' DEI Mission
Healthgrades' newest DEI initiative includes a brand new Spanish Language PatientConnect Hub that provides Spanish-speaking patients with condition and treatment information for type 2 diabetes. A pharmaceutical client specifically requested a program that would be reflective of a Spanish-speaking audience, and we started working on the Spanish Language PatientConnect Hub in late 2021.
Today, our Spanish Language PatientConnect Hub houses a variety of physician-written pieces, patient testimonies, and a diabetes guidebook and specialist directory, with new content published regularly. Combined with our established Spanish PatientConnect Video Center, Spanish-speaking patients now have multiple ways to learn more about diabetes and make proactive decisions about their health.
Additionally, Healthgrades' content teams have implemented editorial guidelines focused on using empathetic, thoughtful, and non-stigmatizing language that allows us to make our content more inclusive and helpful for our readers. We use this conscious language with intention so as not to perpetuate bias that can contribute to inequities, with the ultimate goal of improving health. Where appropriate, each of our PatientConnect Hubs also contains content pieces focused on how specific conditions affect different communities.
As we gather feedback and reflect on ways Healthgrades can further improve our commitment to DEI, patients can feel comfortable with the doctors and specialists they choose on our platform, knowing that they'll be heard and respected. In the future, we plan to be more proactive with projects like the Spanish Language PatientConnect Hub and include multi-language hubs as part of our standard offerings, in addition to providing them upon a client's request.
Inclusive Care is Better Care
At Healthgrades, our mission is to connect patients with the right doctor for them, and DEI is an integral part of that mission. When patients can easily access inclusive condition information or find specialists who will consider a patient's background when creating a treatment plan or prescribing medication, health systems and pharmaceutical advertisers can make more meaningful connections. Get in touch with us today to learn more about our commitment to DEI and our flourishing PatientConnect Hub.
Was this helpful?