New on Healthgrades: Compare Providers
Was this helpful?
Have you ever compared refrigerators before buying them, or looked at two different size TVs on Best Buy's website? Chances are, you have. It's an easy way to look at your options, figure out what matters the most to you, and make an informed decision.
And now, you can use the same strategy when choosing a medical provider. It's easy – you can compare up to four providers side-by-side with our new compare feature. We've always had a wealth of information about providers and the specialties and conditions they treat along with patient reviews and a list of the hospitals they're affiliated with. But we've never had a good way for you to look at all of that at one time, until now.
Here's how you do it:
1. Search for a doctor on our website by specialty, condition treated or procedure performed.
If you came to Healthgrades with a provider in mind, you can search by his or her name. You'll see a list of providers that meet your search criteria.
2. Select the "compare button" underneath each provider's picture.
You can see up to four providers at one time side-by-side. You'll notice each provider you select is added to a dock on the right hand bottom of your screen.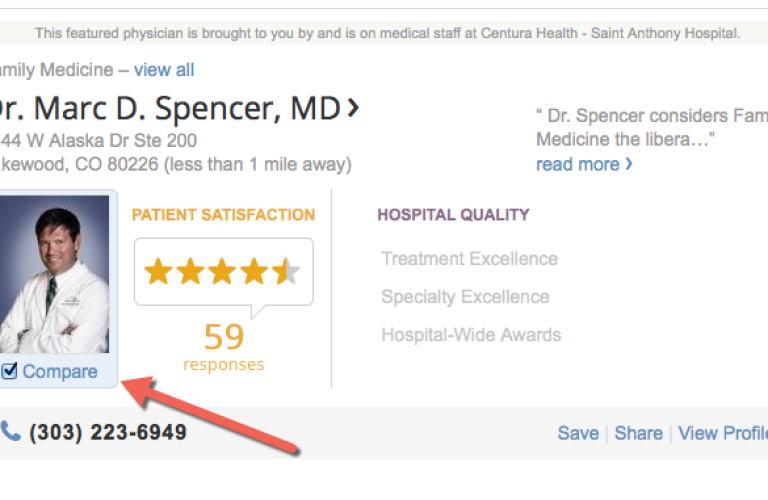 3. After you've added your providers, click the blue "compare" button to be taken to the compare page, where you'll see each provider's details.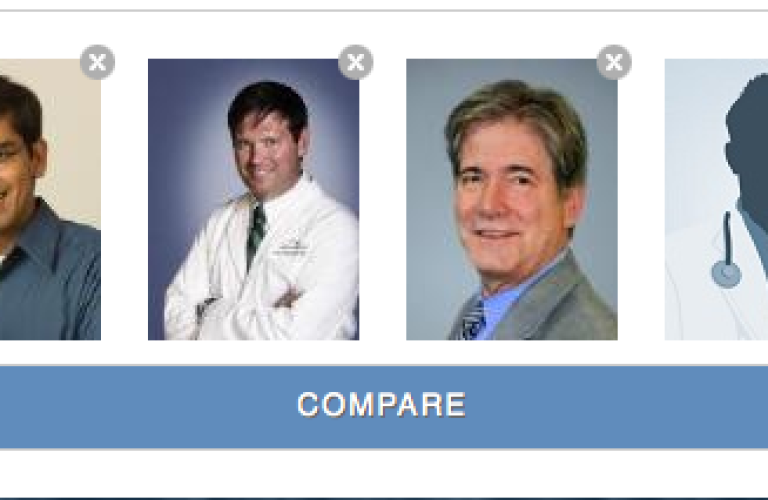 When you're deciding between providers, be sure to look at:
Patient Experience Score - you can see how other patients feel about the provider.
Provider Experience - you can see how many years they've practiced, the conditions they treat and the procedures they perform. This section also includes background information like school attended, years in practice, and any malpractice information that's available.
Hospital Quality - this shows the hospitals the provider is affiliated with along with any Healthgrades awards or recognitions that hospital has received.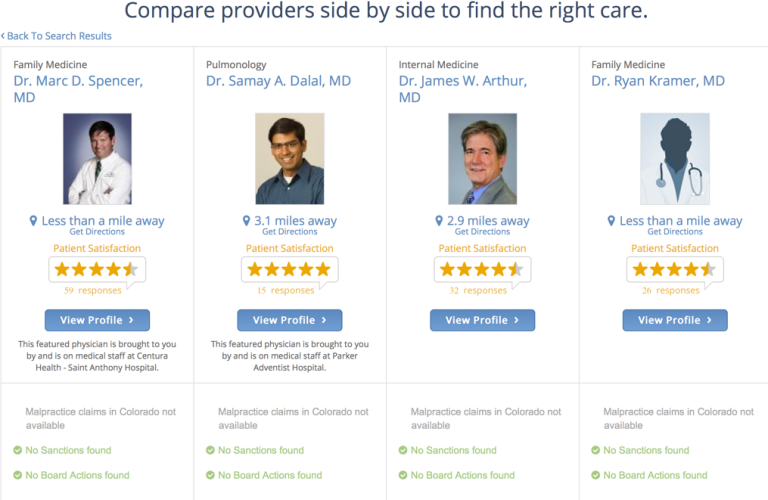 Once you've chosen the provider that is right for you, you can go directly to their Healthgrades profile by clicking the "View Profile" button. You can also get office directions by clicking on the distance link or get patient satisfaction details by clicking on the stars.
Happy comparing!

Was this helpful?